Andaman and Nicobar Islands are famous for hosting numerous water activities like Scuba diving, Snorkeling, Parasailing, Paragliding, Game Fishing, Glass-bottom ride, etc. Many places in Andaman provide Water sports packages covering all water activities within budget.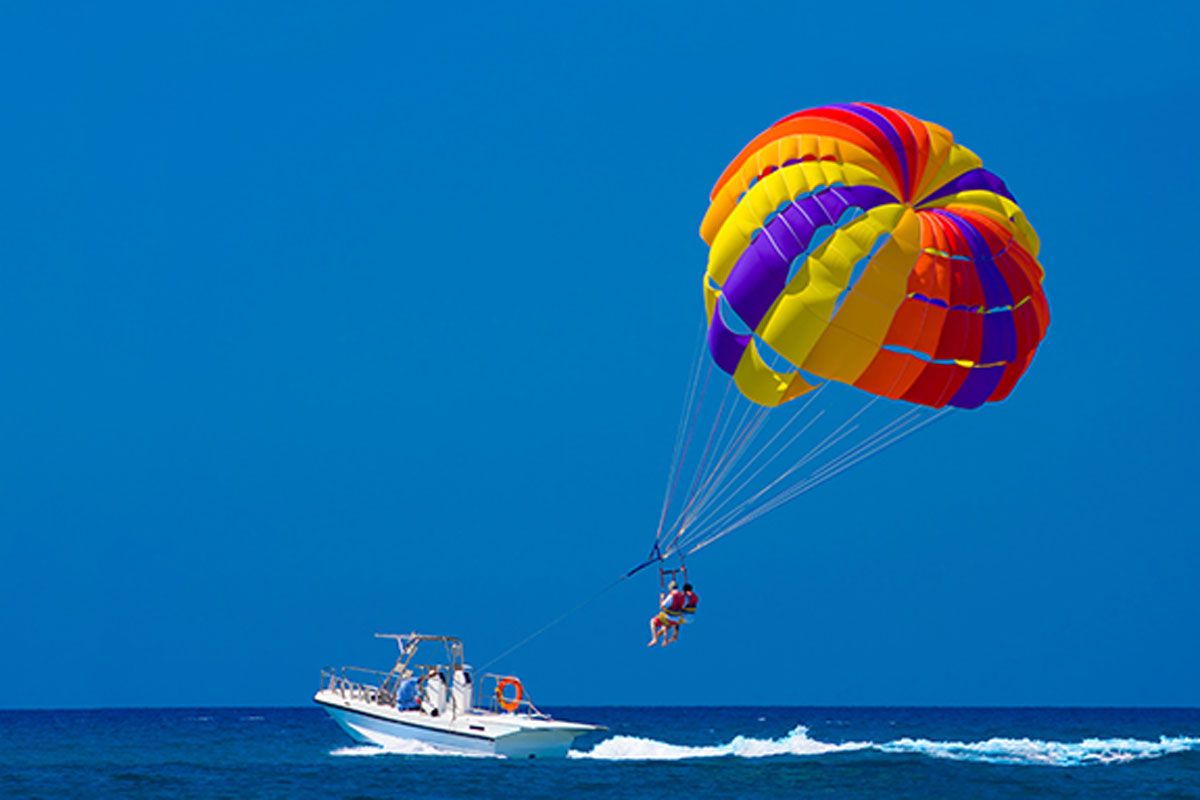 Parasailing, also known as Parascending, Paraskiing, or Parakiting, is an adventurous activity many of us have on our bucket list. It is a thrilling activity where one can witness the scenic views from a bird's-eye. Many places in India provide commercial Parasailing options. Andaman, a place of captivating beauty, is the best place for Paraskiing and gives a delightful experience. This activity offers you the chance to fly high like a bird and enjoy rich greenery and picturesque views of Andaman. 
Why is Parasailing famous in Andaman and Nicobar?
To experience the beauty of Andaman Parasailing, you must know how it works, giving an adrenaline rush.
Several ropes first tie the Parascender to the vehicle used for Parasailing. It is a specially designed boat for this purpose.

A canopy wing, also known as the Parasail wing, which resembles the shape of a parachute, is attached to the Parascender tightly.

The boat then goes into the sea with professional experts, and you are ready to fly high in the sky. 

Surfing through the wind like a bird over the sea while dipping into the sea very often makes your heart feel lighter. 

You can now enjoy the stunning coastline of the beaches, shimmering sands, the tall green palms, and the beautiful landscape of Andaman. 
Places for Parasailing in Andaman Islands
The popular locations of Parasailing Andaman are:
Havelock Island

North Bay Beach

Port Blair
With its corals, blue water beaches, powdery sand, and lush greenery, Havelock Island stands out for Parasailing in Andaman. The Elephanta Beach of Havelock Island is the area where Parasailing takes place. It astonishes the tourists by offering a worthwhile experience of Andaman Flyair Parasailing. 
Parasailing on Havelock Island
Parasailing on Elephanta beach takes place every day but depends on weather conditions. It is better to avoid monsoons as you may not enjoy the Parasailing activity here.

The boat or ship you get clipped raises you high in the sky, taking sudden turns and curves.  

Mornings on this stunning beach are perfect for Parasailing. You can enjoy the sun's shimmering sands and watch Havelock Island's dense rain forests. 
Parasailing price in Havelock Island
Parasailing in Andaman costs around Rs. 3500 with good equipment.
Best time for Parasailing on Havelock Island
Monsoons are not suitable for Parasailing here. It is best to have fun between October and May. 
Elephanta beach also offers various other water sports in Andaman and Nicobar. Take long walks by the beach after enjoying the Paraskiing
Famous for its fringing coral reefs, North Bay Beach is a rich source of marine life. Do you know that the iconic lighthouse on North Bay beach appears on every 20 rupee note? North Bay Beach is famous for many water sports and is not a miss-place in all Andaman Water Sports Packages. Parasailing here is an adventurous ride filled with excitement and joy to watch the pristine shores and tropical rain forests surrounding the beach. 
Parasailing in North Bay Beach
You can reach the beach easily from the Water Sports Complex in Port Blair by private ferries. It takes nearly 30 minutes for the ride. 

If you book any

Andaman Parasailing Water Sports

package, the reporting spot will be the Water Sports Complex of Port Blair.

The experienced professionals take you to the middle of the sea and let you fly free in the air. 

North Bay Beach is easily accessible from PortBlair by Govt or Private ferries. There is no train route available. 

The

Andaman Nicobar Water Sports prices

in North Bay Beach are also reasonable, and Parasailing costs around Rs. 3500, which is affordable. 
Price of Parasailing on North Bay beach
North Bay beach also offers affordable prices, and the price for Parasailing here ranges from Rs. 3000 to Rs. 3500.
Best time for Parasailing on North Bay beach
The best time to visit this place is between November and May, and you can enjoy Parasailing.
If you ask which island is famous for Scuba Diving in Andaman, North Bay Beach is the one with no second thought. One can look for varieties of fishes, lobsters, and clams on the coral reefs underwater. 
Port Blair, the capital city of Andaman, is a fun magnet with a vast Water Sports Complex that provides numerous water activities. The Carbyn's Cove Beach of Port Blair hosts the Parasailing activity. Just 6km from Port Blair town, this beach is surrounded by Coconut and Palm trees. 
Parasailing in Port Blair
You can easily book

Parasailing in Port Blair

as the city is famous for its exciting water activities.

One can enjoy the view of cute cafes and bars from the high sky. The beach is very well maintained with neat washrooms and changing rooms. 

You can also view Snake Island near the beach, a place for Scuba Diving Sports. Historical remains like Japanese Bunkers are also an attraction. 

Get ready to experience the thrilling ride over the sea and enjoy the rich heritage of Port Blair. 
Price for Parasailing in PortBlair
Port Blair comes with a lot of packages for water sports in Andaman. The price of Parasailing costs about Rs. 3500 here.
Best time for Parasailing in PortBlair
There are chances of cancellation of your bookings due to monsoon weather conditions. Hence it's best to visit places in winters and summers. 
Is Parasailing Safe in Andaman?
Being the best recreational kiting activity, Parasailing is a dream for many who like adventures. The thought of flying high in the air and feeling no weight of your body itself is so exciting. Andamans Parasailing activities take the best care of tourists, providing a safe and hassle-free ride.
Strong ropes secure the Parasailing chute around your waist and chest. You will be connected and locked to the pulling boat that makes you fly in the air. 

You will be undergoing a 10-minute training about steps to be followed during the adventure. 

The equipment used for Parasailing is well maintained and tested. 

Basic medical tests are done before you go Parasailing to ensure your health. 

Experienced and professional guides will accompany you, and there is no need to worry about your safety.

The equipment also includes lifejackets which the Parascenders need to wear. 
Parasailing is a lifetime experience that one shouldn't miss on a trip to Andaman. A different aspect of viewing nature by flying in the air over the water is quite interesting. The lush greens and the pristine beaches of Andaman offer an exotic view of the high sky. Many water sports in Andaman price at a budget to serve the best to its tourists. You can also look for water sports packages in Andaman that cover different water sports. Exploring Andaman from the top is always a thrilling memory. 
Explore More Water Sports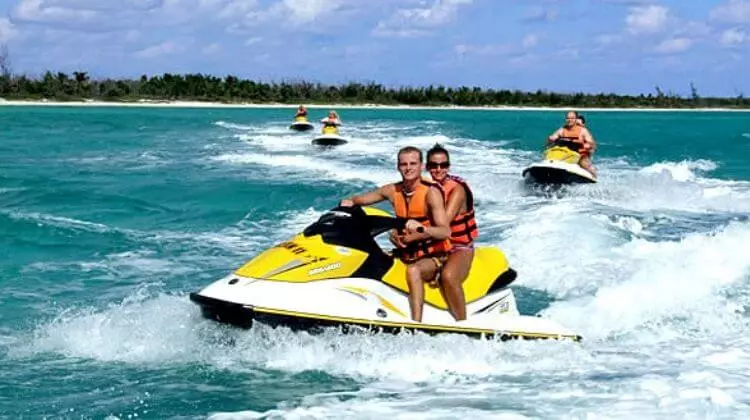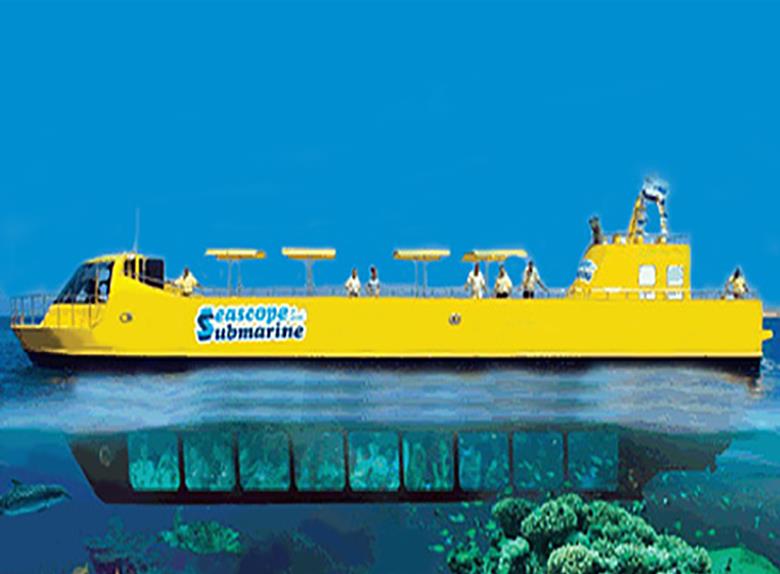 Coral Safari Semi Submarine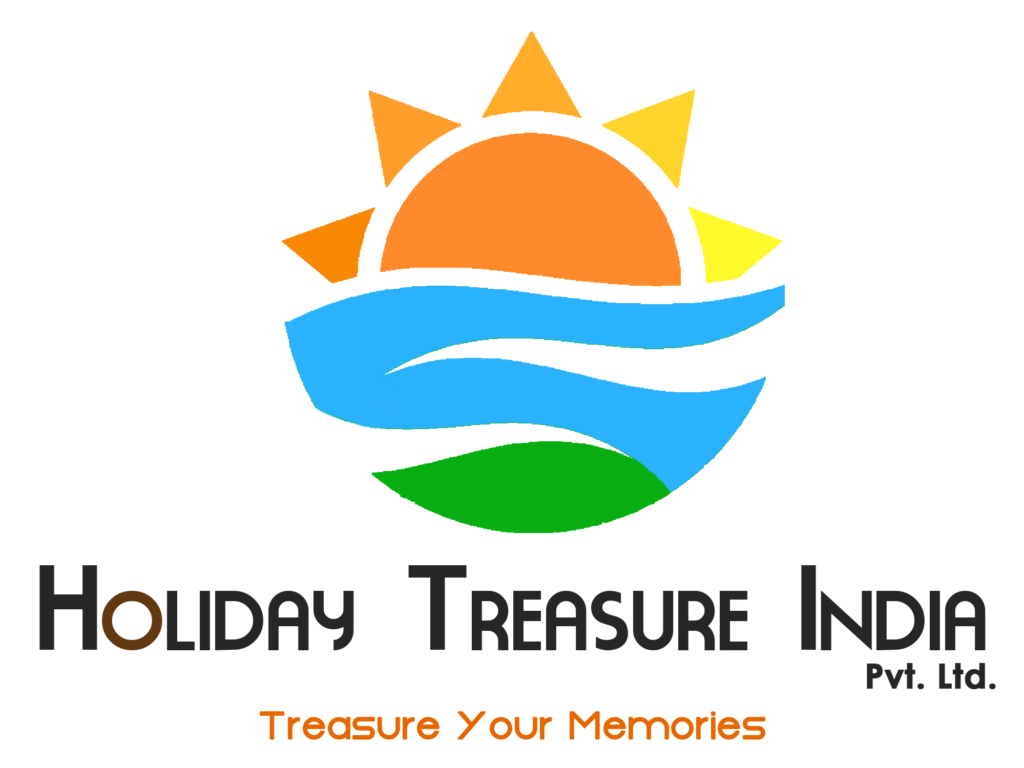 Thanks For The Enquiry,
We Will Get In Touch With You Shortly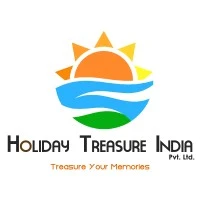 Holiday Treasure India Pvt.Ltd
Office: C-73, VIP Road, Opp.Agency House,Port Blair, A&N Islands – 744103 
Call – 03192-230613 – +918001630555 – +918900930555 – +919474230555 – +919531930555
Whatsapp – +918001630555 – +918900930555